Ben Brown
An illustrator for over 20 years, Ben Brown's illustrations have a rock star / pirate meets Andy Warhol flair.
"I was stoked to be asked back to contribute to this year's Lifeline Classic. I wanted my piece to retain the fun / retro vibe we hit on last year, and incorporate elements like the 'heart' for love, the 'happy brain' for positive mental health, and a 'carefree casual surfer' in a high-line trim, moving forward. I was amazed by the amount of t-shirts from last year's event that I saw being worn around the beaches. It was a great result! I am happy to be involved with something that is so positive, that the whole community supports."
Ben has worked for Sony Music, Universal Music, EMI, Triple J and Red Bull. He is a regular contributor of illustrative work and editorial for surf, snow and skate brands. And he's just a bit of a legend in the illustration world, really.
Eve Bracewell
Eve combines her finely-tuned design skills with a contemporary and unique illustrative style, to create work that is bold and expressive, with a dash of hand-crafted magic.
"This artwork shows the positive effects of surfing on mental health, taking inspiration from the psychedelic music posters of the 1960s and 70s! The free-flowing dance along the face of a wave is one of the most uplifting feelings in the world; it is an experience that inspires the soul, heals the heart and calms the mind. Surfing reconnects us to nature, and gives us a sense of community and purpose. Both surfing and organisations like Lifeline make the dark days a little brighter."
With a background in textiles and print, Eve began her illustration career in the UK, where she was a regular contributing illustrator to Cooler Magazine. She then moved to Australia's Northern Beaches, in search of waves and wonder, but it was her creative abilities that really started to swell.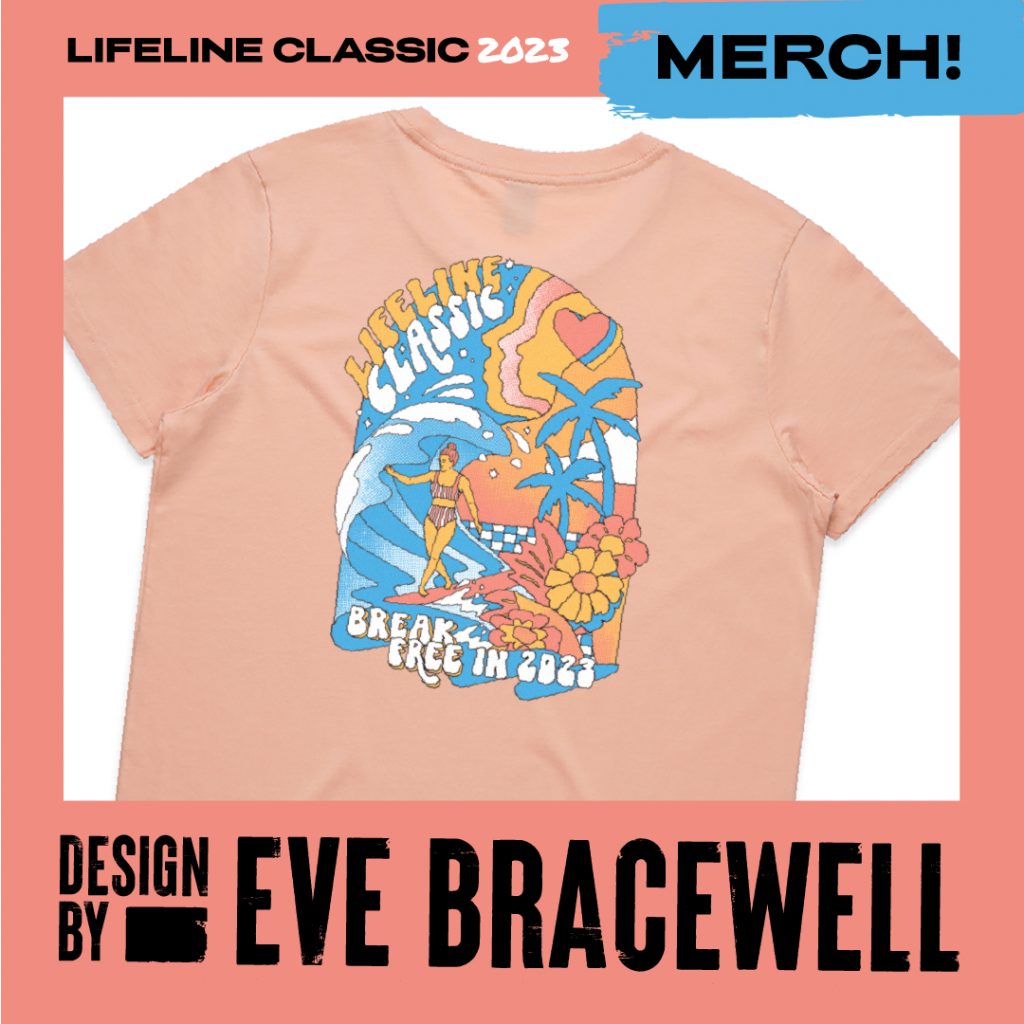 ---
2022 Lifeline Classic Artwork
Ben Brown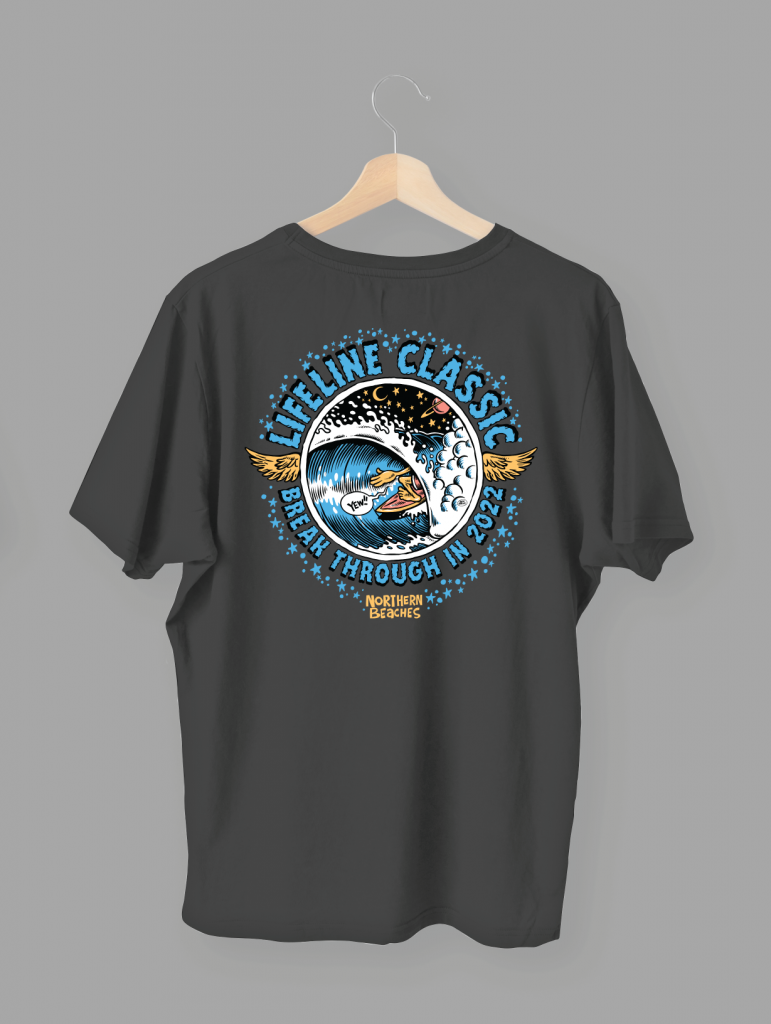 "I was very happy to contribute to the Lifeline Classic as it's been a fixture on the local surfing calendar for a while now! The two major elements of my work are the 'tube ride' and the wings. What surfer doesn't like getting barrelled? It's the holy grail of surfing! The wings represent being lifted up by the community around you. We are lucky to have a truly local organisation like Lifeline on the northern beaches."
Brent Smith
If you love ice cream, skulls and a touch of the absurd, then Brent Smith a.k.a. Biffy Brentano is sure to set your heart a'flutter.
Brent Smith is a Sydney based artist and illustrator whose lo-fi artworks often depict fantasy and surf culture scenes and a surreal experience of everyday life.
"I really wanted to highlight the humble telephone as it is the key component of how Lifeline operates. And I thought using the old wind-up in a barrel would be fun! Having a dolphin on the phone hopefully reduces some of the heavy stigma attached to reaching out for help."
Biffy has exhibited across Australia and the USA.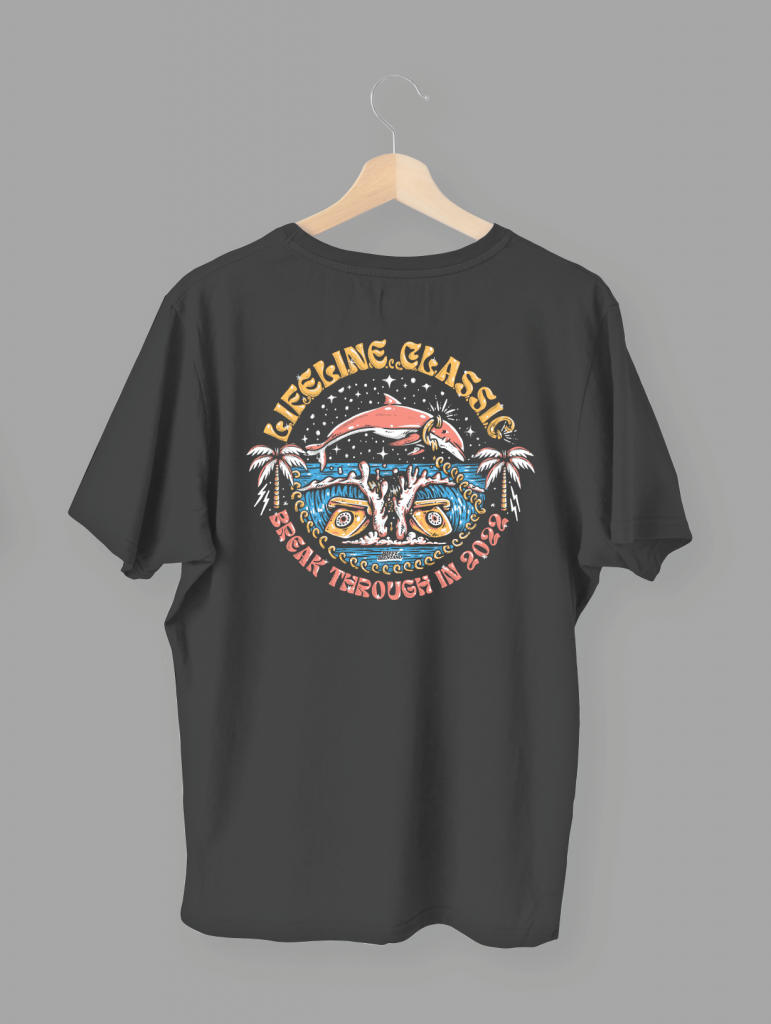 Kentaro Yoshida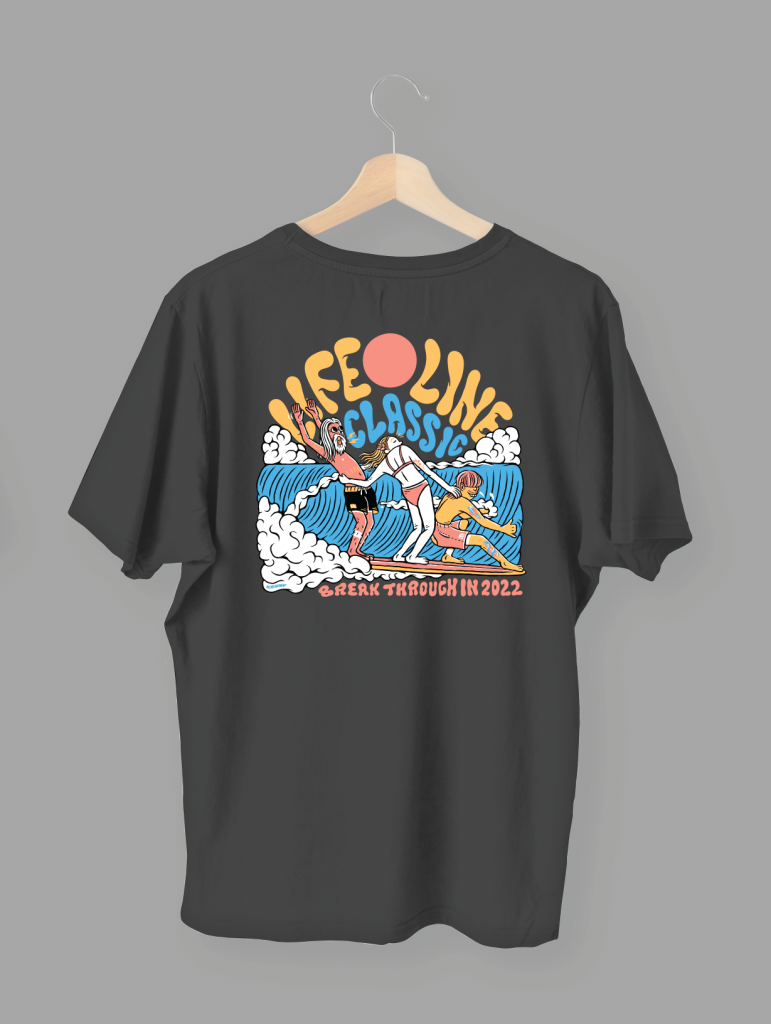 Kentaro Yoshida was born and raised in a rural fishing village in Toyama, Japan. At the age of 18, he decided to move to Australia in pursuit of sunny beaches, a more balanced lifestyle and an opportunity to speak the English language. Now, after a decade here, he works as an illustrator and artist, and lives on Sydney's northern beaches.
"In my artwork for Lifeline, I wanted to portray the message of sharing and inclusion by illustrating various people of different genders, ages and races, riding on the same surfboard."
Kentaro is passionate about both traditional and digital mediums, and specialises in hand painting his artworks, with canvases spanning from walls to watercolour paper.